How To Dye Leather Shoes
American Duchess offers many styles of dyeable and paintable leather shoes, which you can easily customize using the Angelus products available in our accessories section.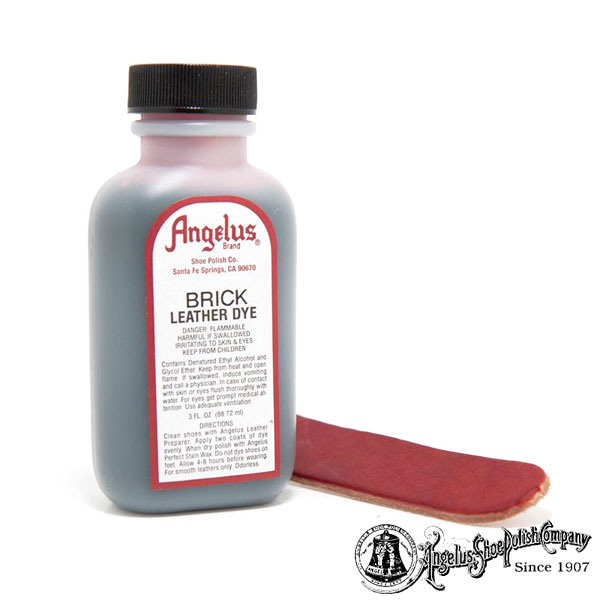 Leather Dye differs from acrylic shoe paint in that it pentrates the surface of the leather to stain it permanently, creating a rich colored surface while maintaining the surface properties of the leather. Dyed shoes can be cared for like any other leather product, with shoe wax and lustre cream. Leather Dyes should be applied over light colored leathers only. For opaque coverage over any color leather, try our selection of Angelus Acrylic Leather Paints.
Materials
The following items are needed for this method:
Cleaner/Deglazer
This product is essential in stripping the factory finish (such as oils, wax, and silcone) from your shoes before you apply your paint or dye. Angelus Leather Preparer & Deglazer is specifically designed for this purpose, but cannot be shipped internationally - in which case we'd recommend using a solvent such as acetone, isopropyl alcohol or ethanol.
Leather Dye
These dyes are specifically formulated to stain leather permanently, while conditioning it, to create a deep and highly pigmented finish. Angelus Leather Dyes come in 3 oz. bottles, in a variety of popular colors.
Shoe cream and/or wax polish
Keep your dyed shoes looking spiffy, and water-resistant, by polishing them regularly. We offer several colored shoe waxes, as well as neutral, which will work over any color dye. Angelus Lustre Cream will hydrates and conditions leather after the cleaning process. Neutral Lustre Cream will work over any color, and can be pigmented with the same dye, to create a matching color lustre cream to easily repair scuffs.
Applicators
A soft cloth, or wool dauber (preferred) is an excellent way to apply leather dye.
 
Method
Begin by rubbing your shoes with the

 

Leather Preparer & Deglazer

 

to remove the factory finish.

 

Be thorough with this step. Allow a few minutes to dry.
Dampen the leather using a spray bottle filled with water. Do not oversaturate, but make sure the leather is evenly damp.
Dye your leather by evenly applying the dye using a

 

wool dauber, or a soft cloth. Apply thin coats and build up the color evenly.
Allow your shoes to naturally air dry. This usually takes a couple of hours. Apply a second coat of dye if necessary.
In the case of over-saturation, you may see a bronzing effect on your shoes. You can easily remove this metallic look by gently wiping down the leather with a cotton ball or soft rag soaked in rubbing alcohol.
Once your shoes are completely dry, you will need to rehydrate the leather. Apply several liberal coats of a shoe cream such as Angelus Lustre Cream, and then polish with a quality shoe polish such as Angelus Shoe Wax Polish, buffing with a soft cloth to achieve a perfect shine. Repeat this step whenever your shoes need a pick-me-up.
 
Considerations